Geography degrees and courses at Durham University focus on understanding the world's most urgent environmental and social problems. Work with the environment and society by studying geography at Durham
---
Our programmes, and their delivery, are underpinned by a unique set of intellectual and social values. You'll be taught by world-leading researchers in one of the top ten Geography departments in the world (QS World University Rankings by Subject 2019), using diverse methods of learning, teaching and assessment, and including fieldwork in exciting local and international locations. Our degrees cover a wide variety of topics, allowing you to develop your own specialist interests as you progress.
Our programmes will stimulate and challenge you, while providing first-class support for your academic and personal growth and development. Our graduates are equipped with a range of skills with real-world relevance. This ensures they are highly sought after by a wide range of employers, and we have top employability scores.
Our programmes
We offer BA Geography and BSc Geography programmes. Both Geography degrees begin with a broad foundation where you are introduced to physical and human geography. In the second and third year, BA Geography focusses on human geography, whereas the BSc has more of a focus on physical geography. However, if you want to continue to study both aspects of Geography, then on both programmes you can take integrated modules that combine human and physical geography. Integrated modules address contemporary issues such as climate change, natural hazards, and environmental governance. At Levels 2 and 3 you can also take one module from the other programme.
---
Field trips
Fieldwork is an essential element of teaching and learning on our Geography degrees. From an introduction to the Durham coast and coalfields in your first week to designing your research on landslides in Nepal or the political geography of Jerusalem in your final year, your knowledge, skills and horizons will rapidly expand as you apply theory to real problems in exciting locations around the world. We currently run field trips to Portugal, Glasgow, Liverpool, Bristol, Skye, Lake District, Iceland, Switzerland, Nepal, Norway, Jerusalem, Cape Town, Berlin, and Chicago.
Study abroad and placement year possibilities
We have a number of exciting opportunities for students to spend a year between the second and third years of their Geography Degree Programme on an industrial placement or at a university overseas.
---
Visit us
On our Open Days, you can: Learn how our courses enable you to develop your interests in areas including climate change, hazards, development, migration, and politics; Meet our staff; Find out about our current research and how that shapes our teaching; Tour our laboratories; visit colleges and university facilities.
Stay connected with the Geographical newsletter!
In these turbulent times, we're committed to telling expansive stories from across the globe, highlighting the everyday lives of normal but extraordinary people. Stay informed and engaged with Geographical.
Get Geographical's latest news delivered straight to your inbox every Friday!
Contact
Enquiries: www.dur.ac.uk/study/askus
Twitter: @GeogDurham
Instagram: @geogdurham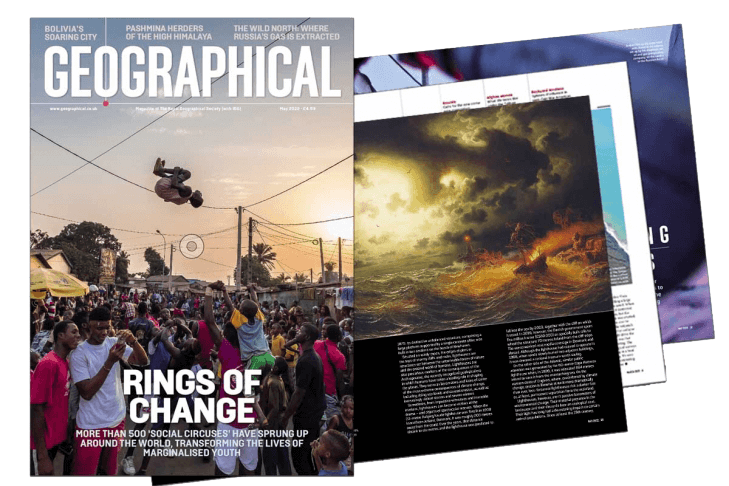 Subscribe to our monthly print magazine!
Subscribe to Geographical today from just £3.40 per month. Our monthly print magazine is packed full of cutting-edge stories and stunning photography, perfect for anyone fascinated by the world, its landscapes, people and cultures. From climate change and the environment, to scientific developments and global health, we cover a huge range of topics that span the globe. Plus, every issue includes book recommendations, infographics, maps and more!