One of twelve new sites will be chosen to define a new geological age, the Anthropocene
---
On a frigid Sunday in February, researchers from Brock University drilled into a small but deep, frozen lake in southern Ontario, Canada. They were looking far below the 40-centimetre-thick ice on the surface for clear evidence of a new epoch: the Anthropocene. 
Despite the term taking root in popular culture since it was first coined by atmospheric chemist Paul Crutzen in 2000, the Anthropocene isn't formally recognised as a geological time period. For that to happen, a formal proposal must be made to the International Commission on Stratigraphy (ICS). Success isn't guaranteed. 
The Anthropocene Working Group (AWG) – an international group of geoscientists, social scientists, humanists and a lawyer – was established in 2009 by the ICS to investigate whether a new, human-driven epoch had a geological reality. The group has been tasked with presenting the ideal geological record of the global changes that mark the end of the Holocene, which began about 11,700 years ago, and the start of the Anthropocene. The site of this record will serve as the Global Boundary Stratotype Section and Point – the 'Golden Spike'.
Some of the best sites to find anthropogenic markers are in protected areas, far from human activity. Deep lakes and newly discovered caves are the best examples. Relevant markers include the sudden emergence of radionuclides, such as plutonium from nuclear weapons testing; soot from industrial emissions; microplastics; changing pollen types; pollutants and geochemical traces such as carbon and nitrogen isotopes. On 19 May, the AWG convened in Berlin to nominate and debate 12 potential sites that could serve as the Golden Spike.
Francine McCarthy, a micro-palaeontologist at Brock University, had long been researching Crawford Lake in Ontario when she was approached by the AWG. Crawford Lake's depth (25 metres) compared to its relatively small surface area makes it 'meromictic', meaning that the bottom layer of water doesn't mix with the upper layers, allowing the undisturbed accumulation of annual and seasonal layers of sediment that McCarthy says preserve material exceptionally well. The cores of mud collected from the lake in February contain strong signals of radionuclides and a very clear increase in soot from fossil fuel combustion after the Second World War. It's a strong contender for the location of the Golden Spike: 'Crawford Lake checks off virtually all the boxes,' says McCarthy. 
Another good candidate for evidence of a global, human-driven change is the Palmer Ice Core. Extracted from the Antarctic Peninsula ice sheet, this 133-metre-long core contains compacted layers of snow that date from 1621 to 2012. Dust, ash and trace elements are trapped between the layers, along with tiny bubbles of atmospheric gases including carbon dioxide and methane. Isotopes in water reveal a clear rise in surface temperatures from the 1950s and methane levels are recorded as more than doubling between the pre-industrial era and the 1990s. 
Sites that aren't selected may still prove useful as examples of what the Anthropocene looks like in other environments, explains Colin Waters, chair of the AWG. One such site is Karlsplatz square in Vienna, where the urban sediment contains Second World War rubble, including relics and shards of glass, and overlying soil layers that have high concentrations of lead, zinc and copper, and traces of plutonium. 
Stay connected with the Geographical newsletter!
In these turbulent times, we're committed to telling expansive stories from across the globe, highlighting the everyday lives of normal but extraordinary people. Stay informed and engaged with Geographical.
Get Geographical's latest news delivered straight to your inbox every Friday!
The AWG believes that these markers signal profound changes to the Earth's geology and ecosystems that began around the 1950s, the start of the 'Great Acceleration' – a dramatic, continuous and largely synchronous increase in human activity and population growth. However, not everyone is convinced by the concept of the Anthropocene. 'I came into contact with a lot of people who had a lot of very, very heated emotions about it one way or the other,' says McCarthy. Opposition comes in the form of outright denial of any human-driven changes to Earth systems, but also from geoscientists who see recent changes as an 'event', not an epoch, one that may only last a lifetime. McCarthy describes a camp that's reluctant to erect a whole interval of geologic time for what might be 'a blip', adding: 'The counter argument to that is the time scale is continuously being changed.' 
McCarthy says that, at the start, she 'wasn't really sold on the idea of the Anthropocene' either. But through her work with the AWG, the evidence became too great to ignore. 'Within a ten-year span, every one of those sites shows off-the-charts changes relative to a few years before,' she says. 'So I have now drunk the Kool Aid.'
Once the site has been chosen and announced (due to happen in December this year), there remains a long process to get it approved. First, it must be accepted by 60 per cent of the members of the Subcommission on Quaternary Stratigraphy, then by the executive committee of the ICS, before final ratification by the International Union of Geological Sciences. Waters thinks that the preconceptions of a group of people who research rocks that are billions of years old might make this a difficult task.
'Some geologists believe that geology is only deep time – it's rocks,' he says. 'So the challenge lies in showing that the Anthropocene can be treated like any other part of stratigraphy. At times it's sloppy, it's gloopy, it's present-day stuff. But the criteria used to recognise geological time intervals can apply to the present day.'
---
Read more…
Latest posts by Bryony Cottam
(see all)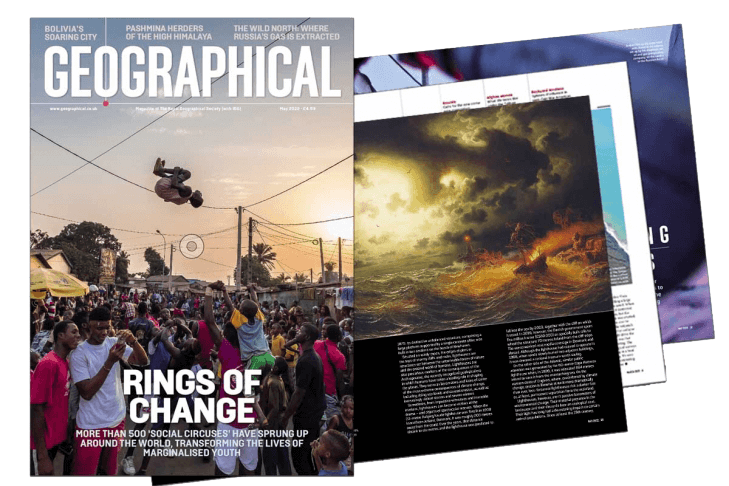 Subscribe to our monthly print magazine!
Subscribe to Geographical today from just £3.40 per month. Our monthly print magazine is packed full of cutting-edge stories and stunning photography, perfect for anyone fascinated by the world, its landscapes, people and cultures. From climate change and the environment, to scientific developments and global health, we cover a huge range of topics that span the globe. Plus, every issue includes book recommendations, infographics, maps and more!