Nottingham is working to achieve a net-zero carbon footprint by 2028
---
By Abigail Spink
'We wouldn't say we're the greenest city in the UK, but we're certainly among the top. We've been at this for a long time now,' a spokesperson for Nottingham City Council recently stated. In almost eight years' time, however, it is hoped the city will be in a position to claim this impressive title as it continues to roll out an emissions-free plan, first announced in January of this year.
The target is an ambitious one and puts Nottingham just behind Copenhagen in the global race to achieve total carbon-neutrality. Denmark's capital is set to reach this by 2025, which will see it land a world-first. After a number of recent breakthroughs, however, it appears that the East Midlands city isn't far behind, with the council remaining confident that what may be the UK's most challenging 'green' target, is firmly within its grasp.
Nottingham has been paving the way with its environmentally friendly transport systems for a number of years, putting a fleet of electric buses in place in 2012 and boosting electric car infrastructure, partly funded by a Workplace Parking Levy. The levy is an annual charge on all employers within the city council's administrative boundary that provide more than ten working parking places. It was designed to urge employers to reduce the number of spaces they provide, encouraging a switch among employees to public transport.
The revenue created by the levy has been ploughed back into low-carbon transport infrastructure; contributing to the extension of the city's renowned electric tram network, providing cycling grants to companies of up to £5,000, extending park-and-ride sites and contributing to the development of the UK's first Eco-Expressway.
While notable milestones have already been achieved, such as the meeting of a 2020 target to reduce carbon dioxide emissions by 26 per cent, it will take a significant effort to totally minimise the greenhouse emissions generated by the city, particularly as it is the ninth biggest in the UK with a population of 325,210 and a growth rate of 0.8 per cent.
In addition to green transport networks, a strong focus on renewable energy is at the forefront of the initiative and has been on the city's agenda for a number of years, according to council reports. Robin Hood Energy, the country's first not-for-profit energy company owned by a council, was successfully launched in Nottingham in 2015 to compete with the 'big six' energy suppliers. It offered electricity from 100 per cent renewable sources – wind and solar power.
The council's portfolio holder for energy & environment, Sally Longford, summarised the city's progress so far: 'We have one of the best networks of sustainable transport in the country and have been turning our waste into energy for years rather than sending it to landfill. We are adding to these great assets by pioneering many new approaches to deal with the climate emergency, such as piloting virtually zero carbon homes and developing community batteries linked to solar power. All of this means we are taking a lead on climate change and are committed to becoming the first carbon-neutral city by 2028.'
Stay connected with the Geographical newsletter!
In these turbulent times, we're committed to telling expansive stories from across the globe, highlighting the everyday lives of normal but extraordinary people. Stay informed and engaged with Geographical.
Get Geographical's latest news delivered straight to your inbox every Friday!
Most innovatively perhaps, the city will trial heating buildings using water in the extensive network of abandoned coal mines in and around Nottingham. According to researchers from Nottingham Trent University, the project aims to explore how this 'could provide a low-cost environmentally-friendly energy source, addressing the issue of low carbon heating and cooling, one of the key energy challenges for the UK.'
Despite assurance that the project is taking flight, some remain sceptical. Although it supports the goal, environmental action group Nottingham Friends of the Earth suggests that action is long overdue and the result of a history of unkept promises. Echoing messages similar to that of pressure group Extinction Rebellion, which it claims pushed for the manifestation of the target, a spokesperson from the group stated: 'It is worth noting that in 2006, Nottingham City Council adopted a target to be carbon neutral by 2016 (this was the less ambitious aim of just the council's own operations being carbon neutral). We supported the 30 per cent reduction from energy efficiency – which was achieved. The rest was to be achieved by "offsetting" – which it didn't even pretend to attempt.
'As a group, Nottingham Friends of the Earth will respond when we see the Plan. We will, at the least, be checking this against Friends of the Earth's national 50-point Action Plan for local authorities,' it continued.
Only time will tell if measures take hold and create results. If recent climate science is anything to go by, the city may soon be working to reduce its eight-year time-frame.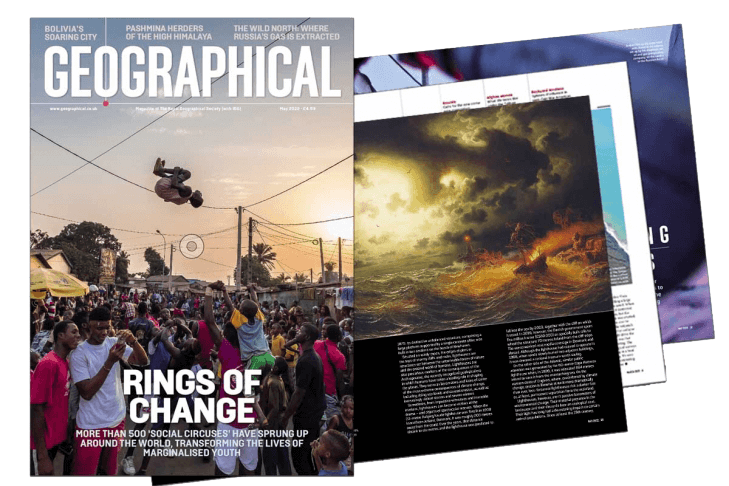 Subscribe to our monthly print magazine!
Subscribe to Geographical today from just £3.40 per month. Our monthly print magazine is packed full of cutting-edge stories and stunning photography, perfect for anyone fascinated by the world, its landscapes, people and cultures. From climate change and the environment, to scientific developments and global health, we cover a huge range of topics that span the globe. Plus, every issue includes book recommendations, infographics, maps and more!